Thank you for making Desk Dave's Featherweight Factory #1 in the preservation and restoration of Singer® Featherweight sewing machines.

We are here to serve you! Please call us at (859) 553-3551 Monday through Saturday, 10:00 am until 6:00 pm, Eastern Time.
Our Quintessential Cornucopia of Colours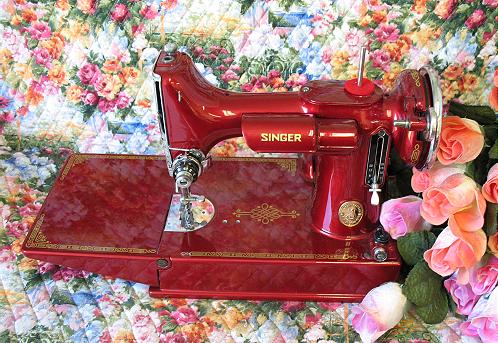 Pictured above is our Candy Apple Red

Your Choice of Any Standard Color Featherweight 221
~ $1895.00 plus shipping ~
Please click on any picture for larger and more detailed photographs.

All Featherweight purchases now include a brand new motor at no extra charge and a full one year warranty. Standard shipping is $39.95.
Our current production time is approximately 36 weeks.
Brand new luxury carrying cases are available - please click here to view and purchase. Original Singer carrying cases may also be available dependent on current stock and condition; please call for availability and price.

Ready to purchase? Just double-click the color of your choice then click the "Add to Cart" button.
Due to our extensive processes and intricate artwork, all custom and personalized orders are non-refundable; however, your satisfaction is our utmost goal. This includes, but is not restricted to, our English Garden Collection, a color choice submitted by a customer, all colors not from our range of standard stock colors, different style and/or color decals, and/or any form of custom personalization.



Desk Dave's Featherweight Factory Nicholasville, KY 40356
(859) 553-3551
Or e-mail us at dave@deskdave.com



Copyright © 2001 Desk Dave's Featherweight Factory™
All rights reserved. No part of this website's content (text, photographs, art, graphics) may be reproduced, copied, or transmitted in any form or by any means without the written permission of the owner. Products and names mentioned herein may be trademarks of their respective owners.